Kingdom of Amalur: Reckoning is the new single player game created by Big Huge games. The game has been released on Feb 7, 2012. The master minds behind this game are some of the best game designers of the gaming industry. The authors of this game have proved that RPGs can have fantastic gameplay along with beautifully designed locations, industrious enemies to slay and a main protagonist to wipe off all the gnomes and elves with nothing but his/ her abilities. The game is certainly coming up with some unique an exciting gameplay for all the hardcore gamers around the world.
The Story
The story is quite simple – the protagonist is the living dead who enters into the land of Amalur with a sword and a staff. The natives of Amalur are the dangerous gnome and elf clans called the Tuatha who want to wipe out all the other races in the land. The protagonist has to save the land from these creatures. This might sound like a story spun a thousand times, but Kingdom of Amalur wins in the twists created in the protagonist's search for his/ her destiny.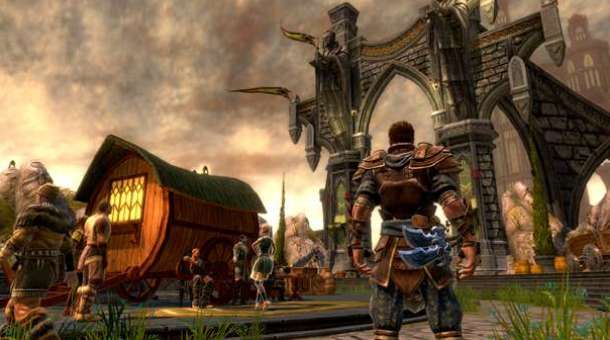 The protagonist enters into the bright, lush locations of Amalur with a character that's been customized by him/ her. Moves are limited in the beginning, but more are acquired as he or she progresses in the game. The player will be confronted by gnomes, monsters and other creatures of Amalur world. You would be able to unlock the next levels only by killing all your enemies in the previous level.
Features
The protagonist has abilities that are categorized into three – strength, finesse and sorcery. This witchcraft game relies heavily on the powers of melee combat! The game earns extra points for the hacking, swishing and slashing attacks involved in the combat sequences.
Once you kill your enemies, you will be able to unlock many weapons and armor. The weapon designs are mainly inspired by Dungeon Crawlers. There is a feature called the 'fateshift', using which you can destroy a lot of your enemies in limited time, as it provides you with enormous power. Once it is all used up, you can use your actual powers to kill all the remaining enemies and have yourself awarded a huge experience bonus!
Why you should buy it
Kingdom of Amalur: Reckoning can be addictive! For the first 20- 25 minutes, the game might bore you, but as you progress, it uncannily draws you in. The game has truly redefined RPGs in its own way and is its biggest strength.