After a long wait, Death Race is back once again. The first part of Death Race was very good in terms of storyline, action and brilliant acting of Jason Statham. Part 2 of Death Race wasn't able to create the excitement which was expected; probably the reason could be the replacement of main character, Jason Statham! Luke Goss was actually replaced with Jason Statham and I think that was the biggest reason for the failure of Death Race part 2. Now, the same hero from part 2 (Luke Goss) has been given a 2nd chance in Death Race 3: Inferno, the movie has been released a couple of days ago. Let's have a look at it!
Storyline
A wealthy man of United Kingdom, Niles York, who wants to takeover Weyland Industries for the purpose of franchising a Death Race, he wants to introduce this race globally by purchasing some crumbling prisons across the world. The idea is to change tracks and locations around the world and of course more frequent races (at-least one race in 2 weeks duration). The character of Niles York is played by a famous and well-known actor Dougray Scott.
The starting race takes place in the hot desert of South Africa. A man, named as Frankenstein, is fighting for his freedom. After winning 4 successive races, he has been told that he will be released if he wins the fifth and final race as well. His team fully supports him in his mission for freedom. A female racer has been included for the first time in Death Race, which is a pleasant sign for Death Race movie.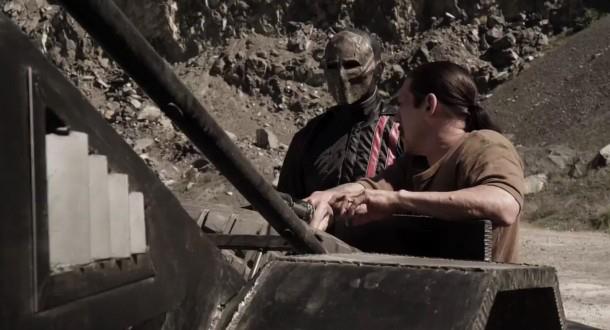 The challenge for Frankenstein (Luke Goss) is to survive and win against the other 9 criminals. While Niles York tries his best to stop Frankenstein from winning all the races. He creates different kinds of obstacles for all the criminal players who are participating in the race, especially for Frankenstein. The intensity and difficulty of obstacles increases with every level. Especially the last race; where survival against obstacles becomes much more difficult.
Strong points
Addition of new locations and new tracks creates a bit of fun. Vehicles are much more solid and organized, a few new weapons and vehicles have been added. Acting of Trejo is very good; probable you'll enjoy his acting throughout the movie. Inclusion of a female racer is just like a fresh air!
Weak points
Over-all game has been played on the safer side, risk factor is missing. Death Race 3 has not been able to create the same kind of thrill and excitement which was present in Death Race 1. Less creativity, too much waste of explosions, bad acting of Luke Goss and unnecessary relations of Frankenstein and Katrina sums-up the whole movie.
Conclusion
Death Race 3 is surely missing the same kind of buzz which was created by Jason Statham. Fans are certainly missing Jason Statham in Death Race; that's why Death Race 3 failed to make an impression on their fans. If the producer is thinking about Death Race 4, then surely he needs to think about Jason Statham once again!