CSR Racing is a free-to-play drag-racing game published by Natural Motion Games Ltd originally developed in 2012 for MAC and iOS based devices. The game made over $12 million in a month shortly after its launch, making it one of the top 10 grossing iPhone games of 2012.
The game is all about the player taking the role of a new racer looking to make a name and challenge the five racing crews that rule a city or simply race the world !!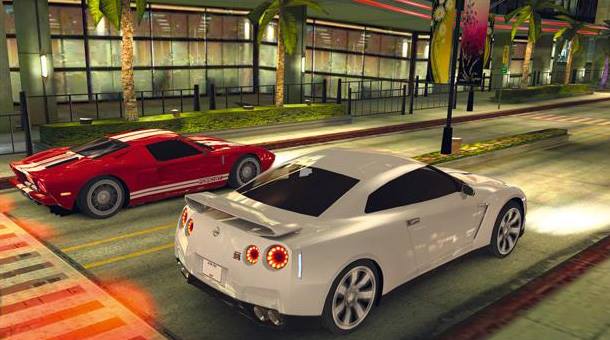 CSR Racing is a popular choice for iOS devices due to some of the unique features:
Single and Multiplayer mode for a unique racing experience.
Stunning, high-end graphics with a full retina resolution.
Addictive game play.
Officially licensed cars from Audi, BMW, Chevrolet, Ford, GM, Mini, Nissan, Bentley, Continental Supersports and SLR McLaren to name a few.
Wide range of customization products/upgrades for your dream car.
If you love thrilling racing games, CSR racing is the game for you. Indulge in a drag race along deserted city streets in your Audi R8, BMW M3 or Chevy Corvette. Upgrade your car with turbos, engine stages, ECU tweaks, racing tires to beat tougher and tougher opponents.
CSR Racing does not have complex features like steering, braking or acceleration controls. Instead it has simplified controls with a focus on timing gear changes by tapping the screen. You may choose to participate in Regulation Races (three different levels) or direct confrontations against rival crew members. These simple yet incredible gaming experiences make CSR Racing a popular choice for iOS devices.
Tips and Tricks:
Instead of focusing on steering, driving, all you need is to tap on the screen a number of times to manually change the gears at right time and also tap your nitro button to trigger that boost.
What are Cash and Gold? Cash is earned from winning races while Gold is earned by leveling up, winning in the multiplayer mode or spending real currency through in-app purchases.
Upgrade your cars whenever possible by spending either Cash or Gold. In fact no upgrade requires you to spend gold either, except some vinyls. Upgrades can always be purchased with cash. You can also purchase new cars using Cash from the 'Car Dealer'.
Gold is needed to purchase special cars, skip delivery times for new upgrades, and instantly 'refuel' the cars.
You need to play online to gain access to the latest content and features, and to ensure that your profile is backed up online.
CSR Racing is free to play, but it contains items that can be purchased for real money. You can toggle these purchases on/off in the "Restrictions" menu on your device.
Technical Facts:
CSR Racing works on iPhone 4S, iPhone 4, iPhone 3GS, iPod touch (3rd and 4th Gen), and iPad, iPad 2 and New iPad.
CSR Racing requires iOS 4.0 or later.
The game has a size of 170MB (approx).
So the bottom-line is CSR Racing and iOS is here to tickle your race buds. So why wait? Grab your iPhone/iPad and start zooming !!