I spend most of my time in front of my desktop computer since it's my daily driver for work. When it comes to gaming, I prefer the big display, keyboard, and mouse of my computer over the limitedness of my smartphone and tablet. That's why I am always in the lookout for software that can help me manage my mobile devices through my desktop computer.
Having the ability to control smartphones and tablets using a desktop has a lot of advantages. Aside from avoiding the tediousness of switching devices, you can benefit from the ability to quickly organize data and functions. It is certainly a convenience being able to easily move contacts, synchronize messages, or even read and send text messages without the need to open your smartphone or tablet.
Wondershare MobileGo for Android is one of the applications I've had the opportunity to try.  Designed to make it easy to control and organize Android mobile devices, MobileGo is touted as an application that makes life easy for Android device owners who are multimedia enthusiasts, those who love to send text messages, and those who have difficulties managing apps on their Android phones and tablets.
MobileGo's website highlights five main functions of the application. They are as follows:
The convenient one-click function for creating backups of everything in the Android device to the PC
The ability to quickly add music and other multimedia content from the PC  to the Android device
App downloading, installation and uninstallation, exporting, and the moving of apps to the SD card of a device
Quick contact transfers and SMS reading and sending capability ideal for social networking and text messaging junkies
Wireless Android device management
This review focuses on the five highlight functions of MobileGo since prospective users would likely be more concerned whether or not the app delivers the main functions it promises to deliver.
One-Click Backups
MobileGo provides very convenient "Backup" and "Restore" functions that make it easy to keep your mobile device's data secure and easy to transfer in case you want to upgrade your phone's firmware or if you want to use a custom ROM. These functions are under the "More Tools" section, which you will immediately find at the main interface of the application.
All functions work as expected and are definitely a joy to use. Once you're done connecting and setting up your mobile Android device to your computer, creating and restoring backups should be a breeze. It is not entirely the "one-click" affair touted on their website but the ease of use is definitely there.
Quick Multimedia Adding and Enjoyment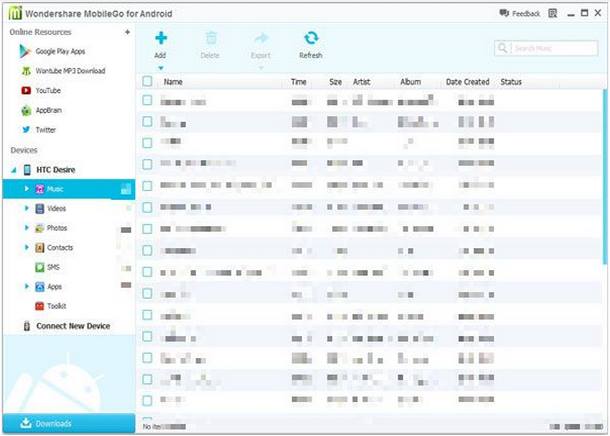 With MobileGo, the consumption of multimedia content supposedly becomes easier or at least non-frustrating. If you are afraid you may not be able to play the videos you copied to your Android smartphone or tablet, MobileGo provides the function to convert various multimedia content to the universally accepted MP4 and MP3 formats. The conversion process is snappy enough although the system expectedly takes some time when handling tremendously large files.
Convenient App Management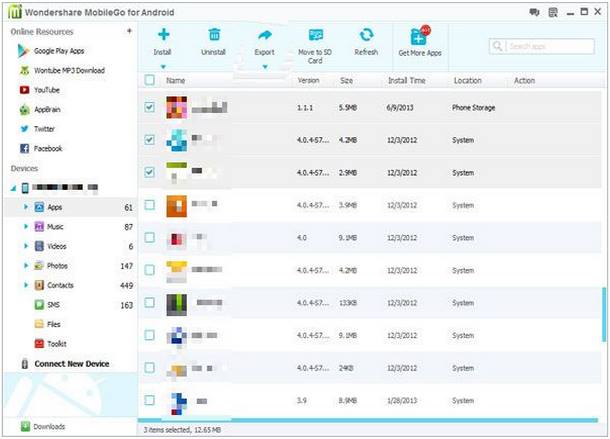 Have you thought of the need for a faster way to download and install apps to your mobile devices through the fast broadband connection of your PC? If you are looking for a good app management or organizing solution, MobileGo has something for you. You can install and uninstall apps to your mobile devices without even touching them. It is also possible to create app backups and to export apps to the SD card for safekeeping or the free your device's built-in memory for other app installations.
Thankfully, MobileGo has direct access to Google Play so you can easily install all the apps you need. This may sound not that useful but is definitely a great way of managing the applications you have in your Android devices. It beats the popular Airdroid with the inclusion of the "Move to SD Card" function.
Fast Contact Transfers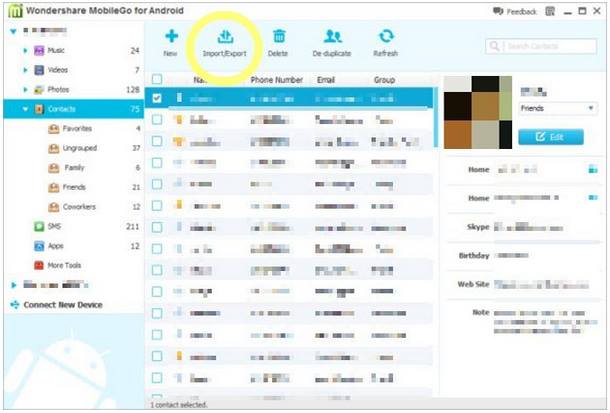 When you get yourself a new smartphone, one of the main concerns you would encounter is the transferring of your contacts and other data you have in your old phone. With MobileGo, this is quickly addressed by the quick "Import/Export" button under the "Contacts" section.
You just have to connect your old device to MobileGo to "Export" your contacts and go to your new device to "Import" the contacts you have exported. The interface is intuitive and everything works in the same way as other PC management software for mobile devices like those from Nokia and Samsung.
SMS Messaging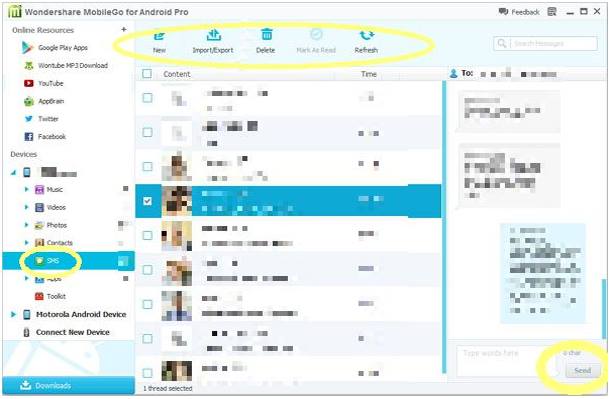 It is possible to read your SMS with MobileGo through your PC without opening your smartphone. SMS sending is also supported. The interface looks quite comprehensive—just the way I like it. Some similar implementations tend to show only the dialogs or SMS archive at a time, but MobileGo presents everything. It shows all the basic functions of the main menu, the list of text messages received and sent, and the message box where texts can be read and composed.
Wireless Android Device Management

What's great about MobileGo is its ability to effectively replace the management suites of most devices. It comes with almost all of the necessary functions to properly manage and organize your smartphones or tablets. You don't even need a USB cable to connect your smartphone as Wi-Fi connection is supported. Configuring the connection is easy, just like setting up a very basic router.
My experience with MobileGo has been pleasant so far. The only issue I can point out is probably the price. It's not exactly cheap but considering all the functions and reliable performance, I'd say it's worth your money. You will definitely enjoy some significant improvement over some free similar solutions like Airdroid.
MobileGo for Android is available in Windows and Mac versions and can control Android devices that run version 2.0 or later. If you can't commit to paying the $39.95 license price yet, you can test all the features by getting the trial version. You can quickly download the trial and paid versions on the official website of the application.