There are some YouTube videos that we would love to download and have it with us so that we can watch it anytime we want.
But when you try to download any video from YouTube then it takes a long time and sometimes is complicated, too, so mostly we drop the idea of downloading the file instead. But if you get some software that will not only help you in downloading the videos but will also help you to manage them too then nothing like that.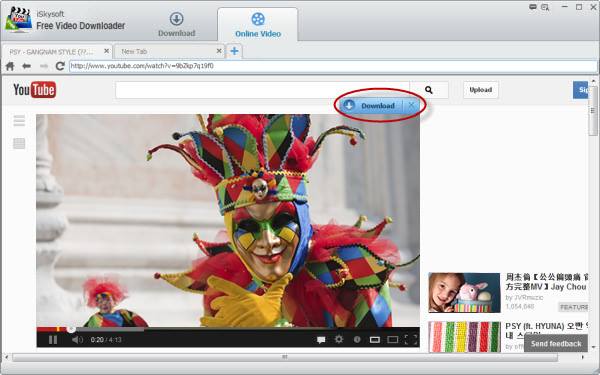 Here iSkysoft has come up with this software (iSkysoft Free Video Downloader) which is three in one thing for you as it will work as YouTube browser, manager and Downloader.
It says that they provide an uncomplicated way of downloading as many YouTube videos you want for free of cost. The most interesting factor seems to be the one where it turns out to be a recorder when the application fails to download the video ensuring that you receive the file that you want. It supports Windows 7/8/XP/ 2003 and Vista too.
Some major factors of iSkysoft free video downloader
This free video downloader has many features embedded in it:
You can browse through YouTube with the help of the inbuilt browser while you are downloading any video
It makes viewing and downloading possible in one go
You can stop downloading in the middle and perform some other job,then also nothing will be lost as you can get the downloading started from the very place where you had stopped.
It comes free of cost and is secured too
No advertisements
Watch videos without internet connection
Easy downloading technique with the downloading button appearing out of nowhere so basically you don't have to do anything. You just have to wait for the download button to appear and that's it.
If you insist, then you can copy the URL and paste it in order to kick start the downloading process
Efficient customer service available to help you if at all you face any problem
Several other things possible with this
As it is already mentioned that you get an inbuilt browser with this free downloader so you can easily locate your favorite videos. Then there are some other features that you will definitely like:
You will get three times better download speed
Bookmark the video sites that are your favorites so the next time you can get straight through it
Multiple videos can be downloaded in one go
You can set the free downloader to auto shutdown or exit the program or maybe enter the sleep mode, making this a smarter downloader in the market
Free downloader manager
Apart from downloading it also works equally efficient as a video manager and this is all possible due to the inbuilt library that it comes with. It also has HD Media Player, which will help you to play all the YouTube videos that you have downloaded and also other videos that are present in your system without any third party player.
This easy to use free downloader will surely solve many a problem and the users will be highly benefited from this downloader.
Note: iSkysoft will giveaway Free license key code of its video downloader and Converter-iSkysoft iTube Studio (costs $29) to our readers. Just share this review and post the product link (http://www.iskysoft.com/free-youtube-downloader.html) at the comment section. Take a screen shot and e-mail to iskysoft@gmail.com. The top 5 referrals will receive the prize from iSkysoft Studio directly!