You are running a tight ship with your new company and you are a little tight on the budget when it comes to IT expenditure. Therefore you are looking for a reliable backup system that don't cost a lot but at the same time gives great value for money for your small and medium business.
With EaseUs Todo Backup Server, you will get the best of both worlds. Not only is it a top reliable server backup solution, but it also costs 50% less than most of the other competitors. It is easy and saves you time with its one click windows server backup and restore that simplifies the role of an IT administrator. It is also about being a reliable and secure solution which backs up crucial business data to ensure business continuity while minimizing server downtime and improves productivity.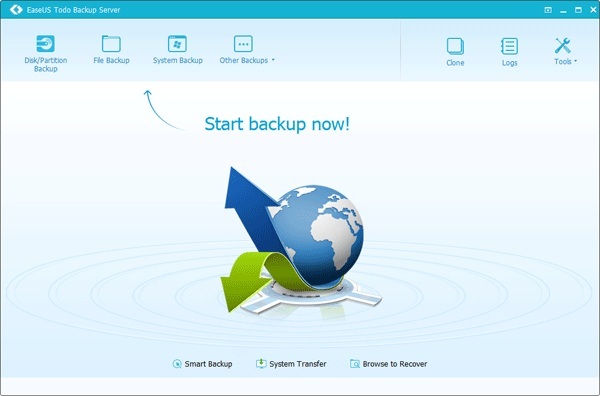 Once you have purchased a license, all you need to is to download and install the software and launch it. You will then be prompted to a window that lists down all the features of the backup system: Disk/Partition Backup, File Backup, System Backup, Smart Backup, Mail Backup, Disk Clone, System Transfer, and Browse to Recover, Tools, Logs.
With the Disk/Partition Backup feature, it allows you to back up your entire disk collection, your partitions, dynamic volumes or GPT disks to image with either the option of a full backup, incremental backup, differential backup or to schedule a backup.
With File Backup, you can specify only the selected files or file types that you want to backup which again would save you time to complete the backup since it only applies to certain files or file types.
Then with System Backup, it is about a one click to perform a backup of system files fast without interrupting any of your ongoing work.
With Disk Clone, you can use it to migrate or copy all the data on a hard disk partition, dynamic volume or GPT disk to another disk either for the purpose of upgrading your hard drive without having to reinstall the operating system or all other applications. Extremely useful and time saving feature meaning you can start using the new hard drive within minutes.
Finally there's the System Transfer that allows you to restore system to dissimilar hardware configuration for hardware replacement, for example a RAM failure that requires you to replace the hardware; or can be used as a one click to restore the system to dissimilar hardware to quickly complete the migration process.
EaseUs Todo Backup Server costs only $199 for use in a single server, $567 for use in 3 servers and $1,074 for use in 6 servers and is totally backed by 30-days money back guarantee. The amounts of features that you are getting are value for money as a complete backup system that can easily perform a windows server backup among many other things. It comes highly recommended by the experts of the industry like CNET, Softpedia and PCWorld who all rate it very high.