Be ready for a whole new experience of the digital world with the Movavi Screen Capture Studio that will let you record video from your screen. The program has an amazing editing tool that lets you enhance the video quality for Mac and even cut and get rid of all the unwanted fragments. There is a huge list of the formats that are available for different devices so that you can watch it anywhere and at any point of time.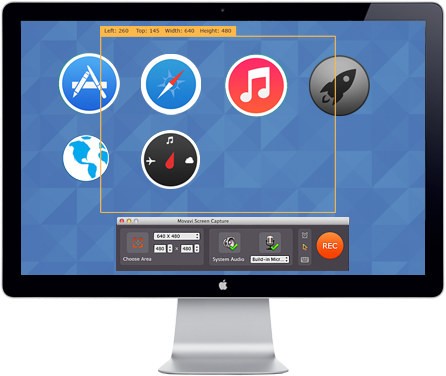 If you someone who is confused about how to record video on Mac then it is a very convenient way for the Mac users to record and capture anything that you want. You can make video guides, record all your video conferences, Skype calls, stream online video and do lot more.
The Movavi Screen Capture Studio comes with amazing powerful features that you will love to use. The application is very nominally priced but does not compromise with the tools that it provides. The best part about the program is that it also has a built in video editing application that will transform all your files that look raw into a very professional looking video clip. You can cut all the unwanted elements and fragments from your video clip. They have tools that will let you enhance the quality of your video, add music and merge the different clips together and also give beautiful transitions in between so that they do not look abrupt.
If you are looking for an application that will let you create professional looking screen cast then Movavi is the software that you are looking for. There are just some simple steps that you have to follow and then the task is done. They even provide you with simple instructions so that you can get started.
The first thing that you have to do is set the recording parameters, adjust the frame area, the speed of capturing, the input and output devices fort recording. Once all the parameters have been set the application is ready to record all the activity on the screen. Once the recording is complete you can even edit them using the handy editing tool that will transform the videos completely. The last but most important thing is that it will let you save in more than hundred different formats that make it easy for you to play it anywhere that you want.
Now that you know everything that is required start exploring the creativity in you.