With a mind-boggling amount of information competing to capture readers' interest every second of every day, one thing is certain. Any headline you use to title your articles must grab your readers' attention immediately. As QuickSprout explains, about 80 percent of your readers may scan your headline, but only about 20 percent will actually read your article. Headlines are the single most effective way to get your audience to click through to read your message. Read on for five tips for creating catchy, one-of-a-kind headlines.
Consider Character Count
When you're writing online copy, you want to be sure that your titles are easy to search for. Make sure your title doesn't get cut off in search results by keeping it under 65 characters. For the perfect headline length, keep it to about six words. Studies show that readers only absorb the first and last three words in a title, which means the rest of your words will have minimal effect. Keep it succinct, and choose your six words carefully.
Include Numbers
One way to create catchy headlines is to include numbers, which have proven to grab readers' attention both online and in print. If you're loathe to write another top 10 or even a 100 best article, try using a less common number in your headline. Compose a list of 17 best recipes for spring or 28 reasons why the new iPhone is the best ever, and pull in your readers with something a little unexpected.
Take Advantage of Adjectives
Boring headlines won't catch anyone's attention, which means you might as well not write the content in the first place. Catchy headlines require you to amplify your message to some extent, but don't do it by using trite words or fluff. Instead, use unique adjectives that will get your audience thinking and clicking. Readers love to be in the know. When you write about the best products, use adjectives like "essential" and "absolute," and when you reveal simplified methods for completing everyday tasks, use fun words like "effortless."
Be Negative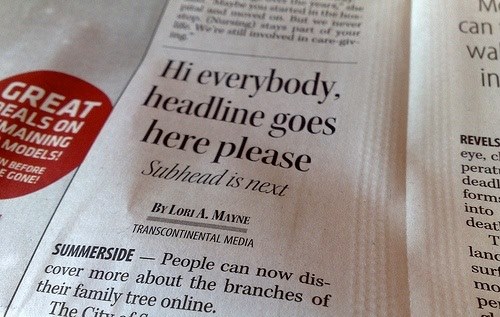 Even the most optimistic readers tend to respond better to negative headlines. Audiences often view overly positive titles as untrustworthy or too salesy. Negative headlines, however, read as truthful and touch on readers' insecurities. They also tend to lead to more shares and more readers.
Make a Promise
Chances are that your headlines lead to not only a well-developed article but also a call to action. Don't be afraid to prompt that action in your headline. Do you want to sell your audience the most informative ebook they've ever read? Do you want to help them set up the most successful website they've ever owned? Tell your audience how completely fantastic your skills and products are by promising them something absolutely top of the line. Make sure you deliver whatever you promise.
Without an eye-catching headline, your content may go unread. Don't risk wasting your words. Use these tips — and look at plenty of examples — to create attention-grabbing headlines for all of your articles.
About the Author
Shaun Chatman is a seasoned writer featured on many authority blogs. Writing is his passion, and he spends most of his waking hours writing about everything from Tech to Education. He lives in Dunedin, Fl