Are you planning on hosting a gaming party for that special gamer in your life, and aren't sure how to go about it properly? Maybe you're not much of a gamer yourself, and you're not too sure what your friend or family member would really love you to include in their celebrations. Organising a gaming party can be a little confusing if you don't know the last thing about gaming, however the good thing is there are a range of services available to make sure that you don't do it wrong.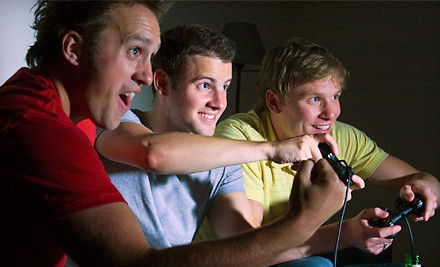 We've put together a list of top tips for hosting the perfect gaming party, and once you've read this you'll be set to host the time of their life – whether you're a pro gamer yourself or have never used a gaming console before!
Use a Theme
If you're hosting a gaming party for a child or teen, a themed party might be just the trick to make it even more fun and enjoyable. Choose their favourite video game and ask all the guests to come dressed as characters. You can also decorate your home or venue in line with the theme of the game. You could even extend this to the food – Star Wars cupcakes anyone? The possibilities are endless, but it's important that you get to know their game first – you'll be embarrassed if you dressed up as a character from a completely different game!
Invite Everyone
Gaming is a great way to get everyone involved, and just because you're hosting a video game party doesn't mean that grandma and grandad need to miss out. You'll be surprised at the amount of adults who'd love to have a go on the PlayStation, Xbox or Wii – so don't be afraid to invite all the usual guests. For those who don't really want to take part in the gaming, you can always make sure there's drinks and nibbles in the kitchen at the ready.
Order a Gaming Party Pod
If you really want to take your gaming party to the next level, why not consider renting a pod from thegamespod.com? It's fitted with state of the art technology and will definitely be a hit with any serious gamer of any age. The Games Pod is also an excellent alternative for adult gaming parties and certainly works well if you're planning on inviting a large group of people – it's like a party bus for gamers!
Mix it Up
Of course you'll manly be playing video games at your party, but don't be afraid to mix it up with classic party games as well. You could even integrate the party games into the video games by adding game-related prizes or even having the players compete for their next turn. If you're hosting a party with older and younger kids, having classic party games is an excellent idea if you're worried that some children might be a little too young for video gaming.
Have you hosted a gaming party? We'd love to hear all about it in the comments.