The concept of virtual reality – or VR – is one that has been a part of the science fiction genre for decades, but is now also becoming part of our everyday lives. Essentially virtual reality means an ultra-realistic simulation of a real-world environment and it is very big news within the world of gaming right now. This article will detail a few essential virtual reality games that are out there.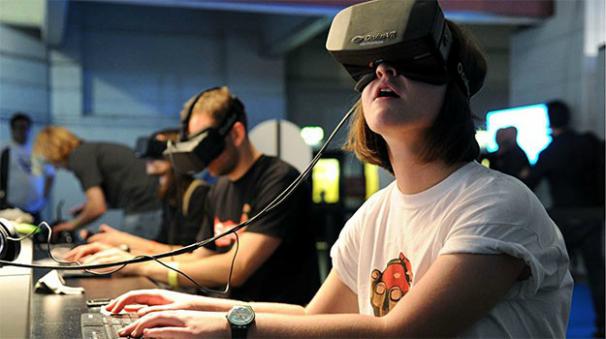 Sparc
This vsport game is the brainchild of CCP Games, which counts the likes of Eve Online among its previous successes, and is a genuinely full-body games experience. It is essentially a blend of dodge ball and tennis which sees the player needing to hit his opponent with the ball. Thus it is a VR game that really gets you moving and working up a sweat, making it ideal for exercise as well as gaming, but it also requires you to use your brain – as the pro-mode makes you hit the other player but minus your shield. It is announced for both HTC Vive, Oculus Rift and PSVR early this year.
Raw Data
If you want a really exciting and action-packed virtual reality game to play with a friend, then Raw Data will be the ideal choice. It plunges you into a futuristic spaceship scenario, with stunning graphics, where you are armed with weaponry like katanas, shotguns and pistols and have to use them to stay alive by killing the robots that are attacking you. This game was originally released during the summer of 2016 and has been a big hit among HTC Vive users, which is the platform it was created for.
Feral Rites
This is another action-based VR game, although this one was created for the rival Oculus Rift headset. It is a fantasy game that immerses you in a mystical island world where you have to fight your way through the thick jungle as you try to gain revenge for the death of your father. This is another game that was released during 2016 and Insomniac Games is the company behind it – with the classy graphics and ability to transform yourself into the feral creatures of the title being two high points of it.
Casino VR Poker
This game can currently be played on both the Gear VR and Oculus Rift headsets and is the very first game to let the player experience a simulation of a casino where they can compete in multi-player poker matches. It does not involve playing for real-world money, which may disappoint some hardened poker fans, but will please those for whom it is more about the game – and the quality of the virtual reality – because it means you can gamble high stakes. It is also a great game for playing with friends and also features a voice chat option to add to the realism.
With cool titles such as Rock Band VR and Mage's Tale due to be released over the course of this year, it is exciting to imagine just how popular VR will be within the very near future.